High-profile speakers lined up for strategic conference at IMHX 2013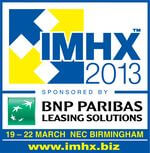 19 December 2012
Demonstrating their commitment to delivering a high-value visitor experience, the organisers of IMHX 2013 have lined up an informative and free-to-attend conference programme that will run over the four days of the show from 19-22 March at the NEC.
The IMHX 'Logistics Excellence' Conference will have two streams - a series of seminars at strategic level plus a fascinating selection of case study presentations to demonstrate examples of best practice. The strategic-level conference - entitled 'Building supply chains for value and performance' - is aimed at board-level executives and will be delivered by renowned industry experts, including high-profile 'keynote' speakers to begin each day and a panel discussion later in the morning on the day's theme.
Kicking off the conference as keynote speaker on day one will be Prof Alan Waller OBE, Visiting Professor in International Supply Chain Management at Cranfield School of Management, who will speak on 'Supply Chain Strategy in the Boardroom - the Reality'. Alan - who is Vice-President for Supply Chain Innovation at the consultancy, Solving Efeso - will explain the results of research on this topic carried out in world-leading businesses during the period 2009-2012 in order to clarify what is involved in developing and implementing supply chain strategy, including identifying the enablers and obstacles to success.
On day two, the conference will welcome Prof Alan Braithwaite, Acting Head of the Cranfield Supply Chain Research Centre and Chairman of LCP Consulting, as keynote speaker, with the theme 'Embracing collaboration to drive value'. Using practical examples from recent research, Prof Braithwaite will examine the opportunities that exist for collaboration with suppliers, customers and competitors in order to tackle supply chain volatility.
Thursday's programme has the title 'Understanding, mapping and mitigating supply chain risk' and the keynote speaker will be John Manners-Bell, CEO of Transport Intelligence. Against the backdrop of a world beset by natural catastrophes, John will ask whether corporations are taking the right approach to 'Black Swan' events. Day four's theme of 'Future supply chain challenges' will see Paul Brooks, Sales Director for Unipart Logistics and former Chairman of the CILT, as keynote presenter. Paul will outline where he believes the critical break points in future supply chains will be and how to build in supply chain resilience and agility.
Full details of the strategic level conference sessions are available now at www.imhx.biz/logistics-excellence and information on the operational level presentations will be released soon. Visitors can pre-register now for a free priority pass to attend the UK's premier intralogistics event by visiting www.imhx.biz.
<! –-INFO PRECEDENTE SUIVANTE DEBUT -->
<! –-INFO PRECEDENTE SUIVANTE FIN -->
About Informa Exhibitions

Informa Exhibitions is a network of exhibitions businesses within Informa plc that operate around 135 trade and consumer events in over 38 cities across the globe. Its main office locations are in London, Sao Paulo, Dubai, Abu Dhabi, Mumbai, Singapore, Melbourne and Beijing. Each year the group brings together approximately 1 million professionals from every corner of every continent, all looking to meet, network and do business. Informa plc (www.informa.com) provides academics, businesses and individuals with unparalleled knowledge, up-to-the minute information and highly specialist skills and services. With around 8,000 staff working in some 150 offices in over 40 countries, Informa's global reach and breadth of offer is unique.
About IMHX

The International Materials Handling Exhibition (IMHX) is jointly owned by Informa Exhibitions and the British Industrial Truck Association (BITA). Held once every three years, IMHX is one of the major European shows and, with some ten per cent of visitors coming to the exhibition from overseas, is worthy of its international title and status. In 2010, IMHX attracted 355 exhibitors and tens of thousands of visitors from virtually every industry sector including logistics, materials handling, transportation, food and drink production, retailing, pharmaceuticals, automotive, manufacturing, engineering and government. IMHX 2013 will be held at the NEC, Birmingham, from 19-22 March 2013.
---
FAQ logistique est un média relayant les actualités des secteurs transport, logistique et supply-chain. Les communiqués de presse publiés sur FAQ Logistique ne sont pas rédigés par nos équipes mais directement par les sociétés qui souhaitent les diffuser sur notre site.
FAQ logistique ne peut donc en aucun cas être considéré comme responsable de leurs contenus. Pour toute question relative à un communiqué, nous vous invitons à vous rapprocher directement de la société concernée.
---