Key Speakers Announced for Intermodal Europe 2012
21/09/2012
The first key speakers have been announced for Intermodal Europe 2012. Over 50 conference sessions will be held during the event, from 27-29 November at the RAI in Amsterdam. Conference topics include green logistics, security and efficiency within the supply chain and the role of inland waterways in the intermodal mix.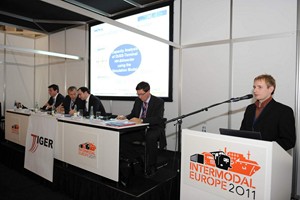 On Day One, the topic of sea container trade and economic outlook will be addressed by Mike Garratt, Managing Director of MDS Transmodal, with a focus on current challenges and future prospects in the industry. Key issues this session will include 'Demand and Supply', 'Implication for ports, suppliers, 3PLs and shippers' and 'Introducing the "case for a change" in market relationships'.
A Shippers Panel will look at current issues and topics through the eyes of the shipper, with representatives from global companies sitting on the panel, including Associate Director WE Logistics Purchases, at Procter & Gamble, Frank Arendt.
Nokia's Head of Cargo Security and Chairman of Transported Asset Protection Association Europe (TAPA-EMEA), Thorsten Neumann, will hold a session that aims to identify gaps in cargo transport security and explore ways to improve security and efficiency within the supply chain.
This year's Intermodal Europe Port Debate will be chaired by Managing Director of The International Association for Ports and Harbors Europe Office, Fer van de Laar, who will be accompanied by representatives from the Baltic Port Organisation (BPO) and various international ports. Debate topics include cooperation and partnership building, improving efficiency of intermodal ports, financing and infrastructure investment, port security and green ports.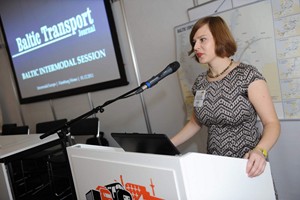 The Global Institute of Logistics and the China Container Industry Association will lead a session about port strategy and intermodal transport, with CEO, Kieran Ring and China Director, William Yang-Lei of the Global Institute of Logistics and Shi Yanqui, Secretary General of the China Container Industry Association. Others confirmed for the session include Brendan Keating, CEO of the Port of Cork, Pedro Jorge Rodriquez Zaragoza, President of the Port of Tenerife Authority, Vincent de Saedeleer, Vice President of the Port Authority of Zeebrugge and Better Princen, Chief Representative - Europe of the Port of Virginia.
Various case studies will be presented at Intermodal Europe 2012, including a highly topical one of JadeWeserPort Road, Rail and Short Sea Transport. Technology case studies include a look at Globe Tracker and another titled 'Successful competitive hinterland networks', presented by Walter Kusters, Business Unit Manager - Logistics, Ab-Ovo.
James Douglas, Managing Director of Container Port and co-author of European Space Agency report "i-Port" will present a report titled 'Technology to Optimise Intermodal Transport in Ports'.
An 'Inland Navigation' conference session will look at 'long term strategies for moving more goods via accessible and navigable waterways'. The session will be chaired by Herman Journée, Director of Strategic Development, the Port of Amsterdam, and will also feature Anton van Hattem, Director at SCS Multiport/CWT and Paul Ham from ECT terminals Rotterdam.
"An increasing number of companies are looking to reduce cost and emissions using innovative transport solutions" says Sophie Ahmed, Event Director for Intermodal Europe 2012. "Rivers and canals can form an important part of these solutions and this conference session will look at the role of inland waterways in the intermodal mix, as well as port issues and the economic outlook."
Head of Logistics at the Port of Rotterdam, Wouter van Dijk and Director of Business Development at Rotterdam Rail Feeding B.V., Hans L. Lip will present a case study of 'Rotterdam: Hinterland Transport by Rail', which will include statistics and competitive factors as well as forecasts and strategies to cope with expected growth.
As part of the exhibition, some key exhibitor companies booked for Intermodal Europe 2012 include Carrier Transicold, Seaco, Hempel, DongFang, Titan Containers, Unit 45, Maersk Container Industry, Cargotec, Cronos Container Group, Florens Container Services, TOUAX Group, TAL International Container Corporation, Daikin Industries Ltd, COA, CAI International (Container Applications International (UK) Limited), Valspar, Thermo King and Seaco.
More speakers and conference topics will be confirmed in the coming weeks. Visit the Intermodal conference programme page on the website (www.intermodal-events.com) to see an up to date list of speakers and topics, including a complete timetable for the free-to-attend event. For further information about Intermodal Europe 2012, to register or to exhibit, visit http://www.intermodal-events.com.
<! –-INFO PRECEDENTE SUIVANTE DEBUT -->
<! –-INFO PRECEDENTE SUIVANTE FIN -->
---
FAQ logistique est un média relayant les actualités des secteurs transport, logistique et supply-chain. Les communiqués de presse publiés sur FAQ Logistique ne sont pas rédigés par nos équipes mais directement par les sociétés qui souhaitent les diffuser sur notre site.
FAQ logistique ne peut donc en aucun cas être considéré comme responsable de leurs contenus. Pour toute question relative à un communiqué, nous vous invitons à vous rapprocher directement de la société concernée.
---